Website Design & Development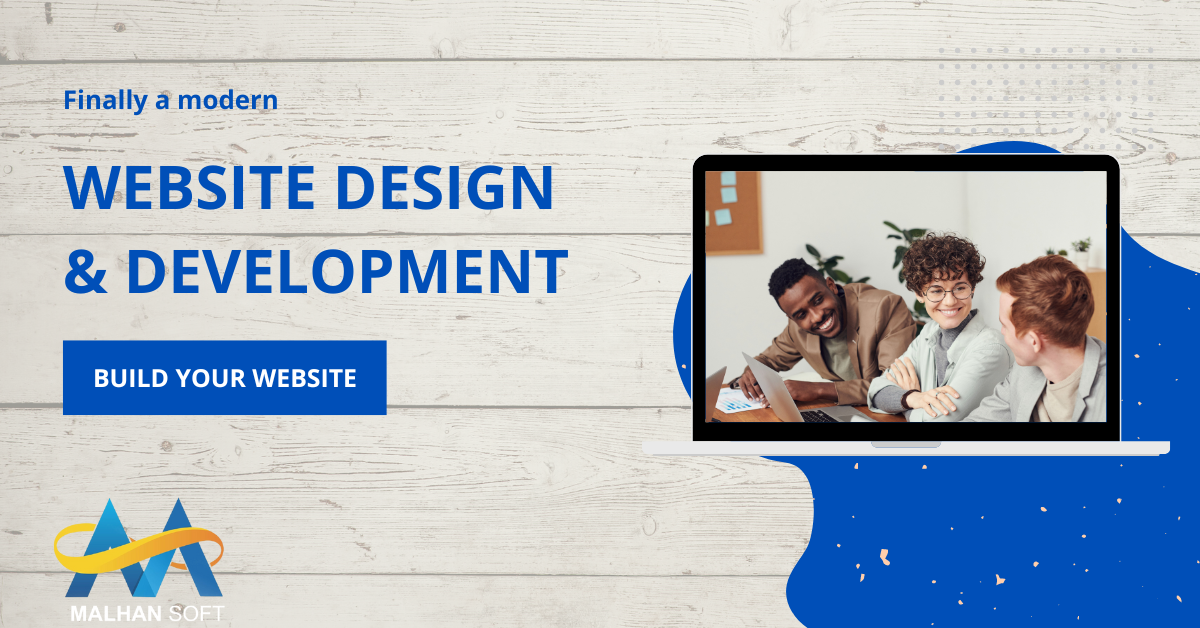 The process of building a website is referred to as website design and development under this general heading. It requires the two key skill sets of website design and web development, as the name would imply. A website's appearance and feel are determined by web design, while its functionality is determined by web development.
The terms for the two roles are frequently used interchangeably because there isn't usually a clear boundary that distinguishes them. The jobs change along with the web's ongoing development.
How do website design and development benefit your company?
The building of websites is essential to every organization. Web development is becoming the most important skill for any firm to have, regardless of size. It is an effective tool for the company's success. Most of the time, a website draws in clients.
The main user interface, font, and theme all help customers interact with your great colors and attract their attention, and they also help businesses expand their flawless feature integration.
Increases Accessibility
Due to the existence of your website, users can access it 24/7 from any location. Usually, a website promotes the brand name. Users will be able to look for your company and purchase your goods from clients who are far away. The customers' travel time to access the website is decreased thanks to these digital marketing services. Well, you can provide a variety of possibilities, including ordering or buying things on the website. Additionally, you can communicate with clients in your area.
Produce More Leads
Any business's profit is based on how many sales are made. A business can efficiently increase revenue and client attraction by creating a website and using marketing. Recent years have seen an increase in the number of business owners offering online transactions. This is as a result of the fantastic possibility they have discovered to profit from online sales. The growth in sales is correlated with the expansion of the customer base.
Strengthens Your Business
You may build better products or services, more persuasive sales and marketing techniques, and better websites by communicating with your consumers. Making company judgments is made easier by precisely assessing data, your website insight, and information.
By providing clients with an excellent user experience and an intuitive website, you may encourage them to stay on your website and discover more about your company. There won't be any opportunity for a customer to pick a rival over you. Consequently, effective site design will assist you in bringing in leads and money for your company. Working with a reputable web design firm is the greatest method to assure the best web design practices.
Creates a Brand's Identity
Customers use your website to determine whether or not to buy a product since it represents your company and gives them their first and last impression of your brand. Here, a custom website development enables you to leave an impression on your visitors that may lead to a purchase. As a result, it enhances your brand and facilitates website user interaction. Your company will become globally recognizable in this way.
How Malhan Soft can help you in website design and development?
Malhan Soft specializes in web design and development and has provided numerous organizations with solutions that are at the forefront of their sector.
We have a top-notch staff of web application developers who can design sophisticated websites that are both creative and high-performing.
With our unmatched website design and development services, we guarantee to give you a website with exceptional performance that is tailored to the demands of your business.
Our professional expertise in website designing
Completely new website designing
Redesign or revamp a pre-existing website
Maintenance of some existing websites
eCommerce Websites
Our web design portfolio includes:
Easy navigation
Attract maximum visitors
Ecommerce Solutions.
Search Engine Optimized (SEO) Websites
Generate revenues beyond expectations & many more
Our web development services firm is here to assist you whether you're a large, medium, or small corporation.
We give the client complete discretion over the proposed website design, appropriate colors, hues, positioning, and additional menus. As we look to build websites rather than using paid or open-source templates like other website creation services.